How would you like to pour all that energy and time you spend at work into something that will create a

solid financial foundation

and

generational wealth

for your family?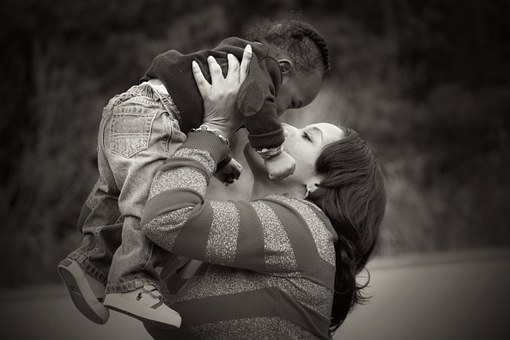 Now that I have your attention, continue reading to find out exactly what you can pour your time and effort into that will bring you a high level of freedom that you can not get at a traditional job. As you have likely guessed from this article's title, the idea involves passive income. Passive income could afford you the opportunity to work less hours and even retire early. For those who are workaholics or those who are extremely busy in particular,  passive income just may be your way out of the rat race. It is a method of building wealth that is relatively easy and does not discriminate. It affords an opportunity to anyone who is willing to put in small amount energy in relation to the huge reward.
One reason many people work hard is to create a certain lifestyle for self and family. According to Gallup polls, the average number of hours worked per week is 47 hours and 40% of employees work over 50 hours per week. So why are we working so much? What is it all for? I believe many of us really want freedom and believe money will get us more of that.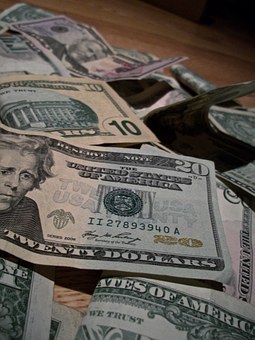 Freedom to experience what you want when you want it; the freedom to buy what you want when you want it; the freedom to go where you want when you want; and the freedom to give or support who you want when you want. Unfortunately, lack of money is a primary reason that limits this freedom; and thus, people work long hours for more money or to get a promotion that will lead to more money. If your primary motivation for working hard is money related, then this information would definitely benefit you. There is a smarter way that leads to financial freedom. In fact, there are many ways to earn income working far less hours than the standard work week. I am convinced that the key to working less and retiring early for workaholics is to create multiple income streams and passive income.
Financial Freedom
---
In early 2000s, there was a top selling book, "Multiple Streams of Income" by Robert Allen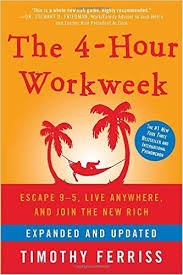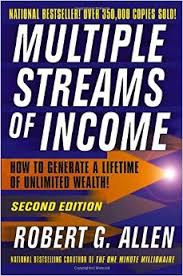 which had a profound impact on my life. This book introduced me to many of the money-
saving tips and investment strategies to move from reliance on primary income from a job into other sources of income. Another top selling book, "The Four Hour Work Week" (4HWW) by Timothy Ferris, expanded on that knowledge of multiple income sources and propelled my knowledge to make passive income in far less time through business automation. The Four Hour Work Week provided keys to escape the hum drum of a 9 – 5 and to live productively even in your current work situation.
Definition of Passive Income
---
Passive income is a stream of income in the form of interest, fees, profits, royalties, or commissions that comes to you 24 hours per day, 7 days a week, even while you sleep. The money you receive from your activity does not directly correlate to the energy you put out. Pat Flynn, who blogs at Smart Passive Income once said, "We don't have to trade our time for money one to one. Instead, we invest our time upfront, creating valuable products and experiences for people, and we reap the benefits of that time invested later."
Creating passive income is not a magic pill. Once you select a way to bring you passive income, you have to learn to execute it and then manage it once the passive income starts coming in. Although the amount of time to manage it will be far less per week than the standard work week, let's say 4 hours instead of 40 hours, the point is that it is not "do nothing", it takes time. However, the financial reward is exponentially greater.
Ways to Make Passive Income Online
---
The primary ways to make money online are the following:
Build blogging websites and monetize via one of the following options:

Advertising – After you create a website, you can sell advertising spots by joining a company like Google Adsense or placing ads directly on your site. The traffic on your website must be very high before this option will yield a lot of money.
Membership – Many people have created a paid membership area on their blog. This is typically for exclusive content that you can only access in the "member's area." If you have a really great idea on what to include, this can be a great idea.  You'll have to create something that can't easily be accessed around the web.
Products/Services – You can create and sell your own product, such as an ebook, or you sell your professional services and skills such as tutoring, personal training, life coaching, etc…. You would then use your blog as a promotion tool to get people to buy your product.
Subscription Services – You can offer a publication like a newsletter or online magazine that you create on a consistent basis (weekly, monthly, etc.) as a paid subscription service. You will have to provide creative material or products timely.
Videos – You can create YouTube videos and get paid from advertisement. You basically need to get views into the millions to make good money with this option.
Affiliate Marketing – You promote other companies products and services on your website. These products and services are related to your niche audience and your website's mission. Majority of companies, large and small (Amazon, Walmart, Target, GNC, …), offer an affiliate program which are free to join, and affiliates get paid commissions on customer sales that result from clicking through your website to get to the company website. You host the links on your website that drive traffic to other sites where the purchases happen.

Sell products on Etsy – If you create arts and crafts, you can sell them on Etsy. It's completely free to open an Etsy store. You simply sign up, post pictures of your creations and starting selling. Etsy makes it easy to sell and keep track of your inventory. Etsy receives percentage per sale.
Sell product on Amazon – You may have noticed the term Fulfilled by Amazon (FBA) if you ever bought a product from the largest online retailer.  Fulfilled by Amazon is simply when you buy and ship bulk products to Amazon for them to sell and ship to the customers for you. Amazon also handles the customer service aspects as well. Amazon receives a percentage of each purchase.
Ebay Store – Sell products or items to declutter your house. If you decide to start an actual eBay store, you'll want to find a drop-ship business  that will store and ship items straight to your customers so you don't have to deal with an inventory. Ebay receives a percentage of each purchase.
Ecommerce Store – Create your own online store.  You can find manufacturers to provide you with products to sell on your store. You can buy them in bulk. You can carry inventory for some of the products  and drop-ship with others. Success with this option will yield the most income.
Of all the ways above, affiliate marketing requires the least amount of effort, offer more flexibility, and one of the lowest startup cost. It doesn't have as great of a return financially as some of the other options like ecommerce store,  but it is probably the easiest to start earning money if you don't have a product of your own ready to sell.
 Affiliate Marketing
---
Build niche websites and monetize via Affiliate Marketing – You can build websites, place ads or links to other people's products and services on your website, and get paid every time someone uses your site as a click-through to get to the other site where they make a purchase. In other words, you simply put a link or a banner on your page  and then you get a percentage if someone clicks that link which routes them to that company's website where the person makes a purchase. You get a percentage of the entire purchase, not just the specific item that is listed on your site. It is a simple concept but lot of things to learn about website traffic, search engine optimization, keyword research, etc. The products and services should be related to the purpose of your website. The revenue from Affiliate marketing grows exponentially as traffic increase on a website. Check out this short video that demonstrates How Affiliate Marketing Works.
Robert Flynn once said, "affiliate marketing is about being open and honest about the products and resources you love and find helpful that would benefit your audience. It should always be about helping people and about the passion of making others feel better. The byproduct of doing that is generating money."
As an affiliate marketer, you get paid to promote products and drive traffic to other sites as you help offer information, product reviews, educational resources, or share experiences to your website audience.
Wealthy Affiliate
---
As for my personal journey, initially, I was looking for a product to sell online via Fulfilled by Amazon, which was one way suggested in the 4HWW book. That was two years ago. I didn't get very far with that. Now, I am focusing on affiliate marketing to earn extra income that would eventually replace and surpass my full time salary. It appeared to be the quickest and most compatible with my skills. It also has the lowest upfront cost.  You see, I am frugal. I don't like wasting money so I don't take many chances with my money.  My success with affiliate marketing points squarely to training; No if's, and's, or but's about it. Once I found a training and support community, I soared in affiliate marketing. I did not seek a structured program. While searching for product to sell,  I stumbled on an article about Wealthy Affiliate, which offers self-paced, structured training platform and technical support for affiliate marketing and starting online business. Once I became aware of this program, I immediately knew that good training is what was missing in my other attempts to make passive income online. I also knew it was worth a try with Wealthy Affiliates when I learned I could try it for seven days for free, without contract or providing credit card information. That was right up my alley, FREE.  Well needless to say, I am now a member of that training support community, Wealthy Affiliate, and it was one of the best decisions I've made toward my financial goal to supplement income and retire early.  I joined an affiliate marketing community (Wealthy Affiliates) to learn all about affiliate marketing. After Stumbling onto Wealthy Affiliate, now I know why I didn't get there on my own. I knew even if I didn't make money, education is something that can not be taken away from you. It is well worth taking a risk on a training program especially if you don't really have a clue where to start. There are so many people making money while they are sleeping. People are going to websites and making billions of transactions 24/7. The internet commerce has made small business opportunity accessible for any and everybody without restrictions to location, age, gender, religion, lifestyle, economic status, or educational level.
Wealthy Affiliate is primarily a training platform and community of affiliate marketers supporting and encouraging one another. It offers unlimited self-paced video training and live chat courses that step you through the process of affiliate marketing and other various ways to monetize website. Everything you need to know about building and optimizing a website is included. A plethora of topics from building a business to social media marketing is available. Oh, I forgot to mention that they also offer two websites, website hosting, and email with website domain, all for free.
If you have been searching for a way to help people or have a hobby where you are passionate about teaching others, or have a cause you want to share with others, this very well may be your avenue to combine that passion with making money. Using a website to reach your audience is the way to go. Monetizing that website via affiliate marketing is icing on the cake.
Wealthy Affiliate Price
---
I would encourage anyone to go and experience the training and build a website and business in the process. Remember it is free. You can build a wordpress website in a matter of hours based on the quality of the training and the support you get. Before you click the link to try it, I want to explain the full program cost if you opt to do more training than the basic starter program; I want to remove be transparent with all pricing options so you can trust that this is not some type of a scam. Below are the membership options available:
Wealthy Affiliates offers first round of courses for FREE for 7 days. That is enough time to understand what affiliate marketing is all about and build a website, so you can see if it is truly something you want to do. As shown above, two websites and website hosting are free. Once you sign in, there will be an option at the end of your seven days to upgrade to monthly for $19 for first month so you can explore further if you want. You can choose not to go beyond the first seven days. By the way,  you DO NOT enter a credit card or any form of payment to gain access.
You simply sign up for FREE. If you decide to continue after the first month, you can upgrade to Premium program for a monthly fee is $49/month or a yearly fee of $359 which equates to $30 per month, and that is it.  No additional upgrades or offerings beyond that. There is no contract. You decide when you stop without any penalties. At that point if you upgrade, you will get access to the full platform of additional courses and many other perks described in table above.  I want you to feel comfortable that there are no traps or I "gotcha" moments. There are no additional services on the site or no other advertising on the site.
The only other fee I had was opting to get my own domain name from GoDaddy for $27 for 2 years. You can use the free websites and don't have to get your own. I chose not to use the websites they offered for free because I wanted a  ".com" website extension instead of ".siterubix.com" which is wealthy affiliate free hosting platform; that was just my personal preference.
Basically if you eventually upgrade to yearly option, for $1 per day, you will receive unlimited training, and community support that can add an additional income source and create passive income with the potential to exceed your income from your primary job.
Closing Points
---
The bottom-line is you don't have to upgrade to premium or yearly. You can just stick with the starter course to find out what this program is all about and never go any further and never pay anything. That is the beauty of this program. You can get your feet wet and decide if you are willing to put in time. This may not be for you or it may not be the right time for you, and you can decide without spending any money.
You will also learn through this course, who you really want to help (your niche/audience) or what your footprint will be on the internet. You will create a website(s), blog and educate your niche audience, drive traffic to your website, then monetize your website and get paid. It is simple but it requires time. You can go at your own pace with this training. You will benefit in so many ways beyond financially because you are literally creating your online business and learning as you create it; it is an exhilarating feeling. You will have a wealth of resources at your hand and a community of people supporting you.
Contact info:
Email me at claudette@youworktoomuch.com
Feel free to Read other testimonials
One last comment. You can try to learn about affiliate marketing for free on your own by searching the internet or reading books, but it makes sense to take advantage of the free offering from this program. You have nothing to lose, and at the very least, you will gain more knowledge about affiliate marketing and build a website. Click below to get started.