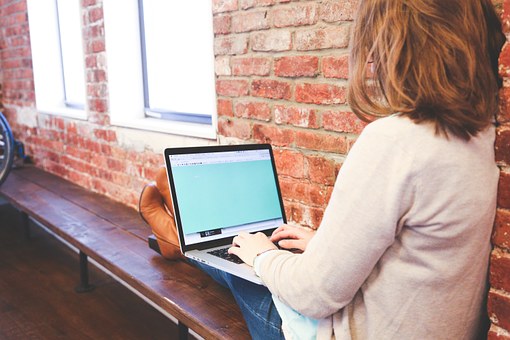 If you spend long hours at work staring at a computer or even find yourself spending long periods of time in front of the computer for leisure, you must consider investing in an adjustable desktop or desk that will allow you to sit or stand with good posture while using the computer. It is simply one of the best and healthiest investments for someone who owns a computer.
It is important to have good posture while sitting. Our bodies, however,  were not built to sit for long periods of time. I believe sitting too much is one of the reasons for the unwanted belly fat and joint pain. Just saying. Scientific studies have linked several health issues with sitting too much. Articles like the Mayo Clinic's article, What are the Health Risk of Sitting Too Much?, lays out the dangers.
"As we learn better, we should do better." I would say if you own a computer, you should upgrade your workspace to an adjustable environment and create the habit of standing while in front of the computer.  Standing should be your first choice while sitting periodically. We have to strive to live and maintain a healthy lifestyle as technology continues to dictate convenience. Don't forget we are setting examples for future generations to live active lives, not a sedentary one.
I have reviewed several different brands and styles of adjustable desks and ergonomic accessories. There are different features but the functionality of the desks are basically the same and will boil down to aesthetics such as color, type of wood, mobility, size, etc…
Here's the bottom-line, if you own a computer, you must upgrade your work station. If you can not afford all the ergonomic accessories, look for used options on Amazon to reduce cost. But do invest in your health particularly if you spend long hours in front of a computer for work or leisure.
Below are the important features to consider when you are converting to an ergonomic friendly work station that promotes health:
Adjustable desk.
An adjustable desk is one that can be easily elevated from a sitting height to a standing height quickly.The entire desk surface extends to a standing level adjusted by the user. Many people like this option because it is a cleaner look than just putting something on the desk that will raise the computer equipment. There are desks with typical 36″ or 48″ width and comes in various colors. There are also corner units available. Some even come with anti-fatigue standing mats. The average price range for adjustable desks range from $195 – $695. You can shop at Ergonomic Workstation on Amazon
 for a variety of choices.
Mobil Adjustable desk:

If you want flexibility to work in different locations, you may want to invest in a mobile adjustable desk. This feature gives you the most flexibility, and there are mobile desks for laptops as well as desk top computing systems. Not only raise the entire desk, but create mobility. This is nice because you are not just confined to one room. You can move the desk from room to room as needed. The average price range from $119 – $299 and  $29 – $99 for mobile laptop desks. You can shop at Ergonomic Workstation on Amazon
 for a variety of choices.
Adjustable desktop:
The adjustable desktop is a unit that you either place on your current desk and put the computer equipment on to raise to standing height. This table top allows you to lift the computer equipment to standing height without adjusting the desk itself.  Most adjustable desktops support two monitors but you want to be sure to check the dimensions. There are monitor risers that you can attach to your current desk as well. It's all about your personal design preference whether you get an adjustable desktop that retrofits to your current desk or an adjustable desk. The average price range from $129 – $289. You can shop at Ergonomic Workstation on Amazon
 for the best selections.
Risers for Laptops:

There are risers for laptops. If you work regularly on a laptop, making your stationary location adjustable is a smart, low cost thing to do. Be sure the laptop riser includes a means for raising a mouse as well. Many of the risers I am familiar with has a side mount for a mouse. The average price range from $20 – $50. You can shop at Ergonomic Workstation on Amazon
 for the best selections.
Accessories: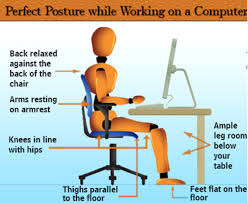 You may want to consider other accessories that support a healthy workstation. An ergonomic friendly mat for standing is an example of preventative support. A footstool for sitting so your knees can be in line with hips and your thighs can be parallel to the floor is another. I would also recommend gel mouse pad and gel keyboard wrist pad on or in front of keyboard so your wrists can rest on something soft instead of the hard desk. Incorporating these low costs accessories can prevent joint pain and even carpel tunnel problems. These items are far less expensive than healthcare to deal with the problems not having these items can create. Click here to browse ergonomics products by category and obtain those items mentioned above if you don't have them already. Don't put it off either.
Be mindful of your posture. You may already be experiencing neck, shoulder, lower back, and joint pain without even realizing that your day to day computer activities are attributing to that.
You must be first on your list of priorities, not work, not your family, not your friends. You have to take care of yourself in every area in order to care for your family and friends. Invest in your health and a quality of life that exceed the typical aging expectations.
I'd like to hear your thoughts. Please leave a comment below or contact me at claudette@youworktoomuch.com