Category: Law of Attraction Planner, 12-Month Calendar, Undated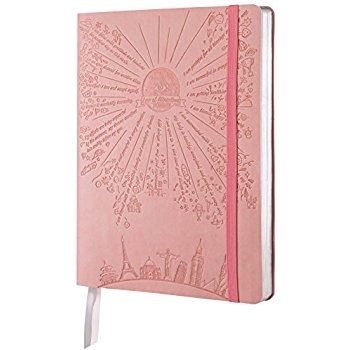 Dimensions: 7.5in x 10in
Price: $35
Rating: 4.6 out of 5 stars
Cheapest Place to Buy: Amazon
Freedom Mastery's Law of Attraction (LOA) Life planner is hands down one of the best planners around; that claim is supported by the plethora of reviews of happy people using this planner, and I am one of them.
LOA planner is really an all-in-one comprehensive workbook, not just your typical weekly 12-month planner. It is geared toward those who want to invoke real positive change by managing their life goals and priorities in addition to staying focused and on schedule. It is an accountability tool similar to the what a professional coach would offer.
This planner will help you develop habits that will lead to the lifestyle you are intending to create. It's all about putting the right tools at your fingertips so you can remain focused, focused, focused. By using this planner, it is expected that you will increase productivity and happiness.
I must caution you up front, this is not the planner you want to get just for jotting down dates & times. There are far simpler planners out there that will do just that. The amount of information in this planner is geared toward those who want to do the work to discover their vision and purpose and align those to their actions, priorities, and daily schedule. This planner can be overwhelming if this is not one of your objectives.
One other very important point about this planner is that it is grounded in Law of Attraction philosophy. According to the owner of the largest law of attraction online community, the law of attraction is simply the ability to attract into your life whatever you are focusing on. Click here to study more details about the law of attraction. Some people think of LOA as a religious principle and thus are turned off by it. I believe it is a law of life that applies to all whether it is believed or not. In other words, it doesn't have anything to do with religion; it is a holistic view of body, mind, and soul integration. My point is, you do not want to purchase this planner if you are put off by a spirituality component of life.
Planner Features:
Inside this planner you'll find the following to help you learn to apply the Law of Attraction for making the universe deliver the life you imagined:
Law of Attraction Roadmap: 8 Steps to design your dream life
Awareness and Self-Discovery Guide
Craft Your Vision & Mission Statement Guide
Annual Goal Setting Guide
Fold-out Vision Board
Strategy & Planning Guide
Reprogram Your Mind & Unlock Your True Potential
Create Your Life Statement
Create a New Supportive Story
Feel-Good Guide – Energy Tuning for faster manifestation
Chunk bigger goals into smaller goals (mind mapping)
Weekly planning overview (60 weeks)
Monthly Overview, goals and priorities (12 months)
Planner Specifications:
B5 Size – 7.5in x 10in (176mm x 250mm)
Undated calendar so you can start anytime
Book opens nice and flat
Weekly layout spreads 2 pages
Daily time blocks from 5:00AM – 10:30PM
Month calendar view for reflection appears after 5 weekly calendar views
2 Ribbon book markers
Band to hold book closed
An easy to follow roadmap with step by step instructions for each step in the back of planner
Space for notes and a folder to store items in the back of planner
The cover made from soft Pu leather, an eco-friendly, vegan friendly material
Thick pages, 100 gsm, about 245 pages
Color: Pink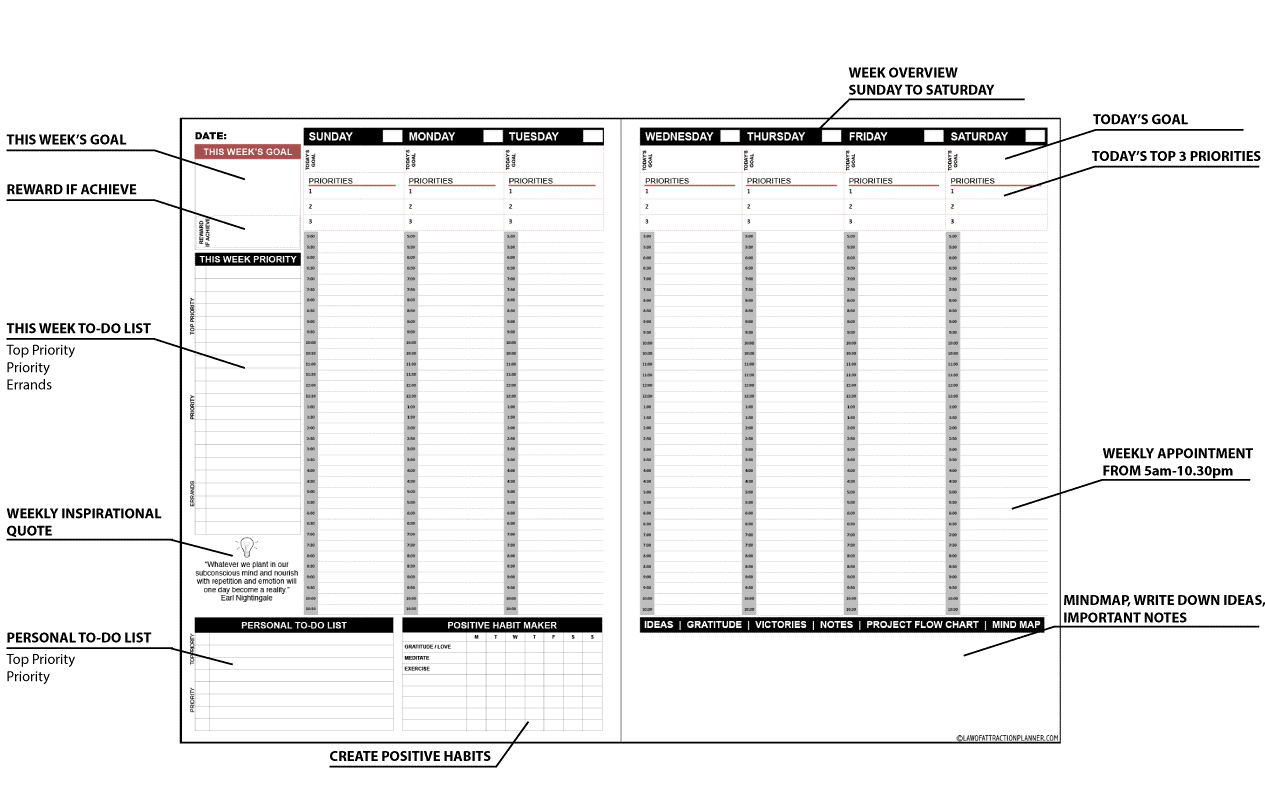 PROS:
Here are the major pros about this planner that so many people are raving about:
Life Planner – Provide place to document key life questions such as life purpose, life statement, vision, strategy. Provide detail instructions how to do deal with these questions and offer a website to get additional information to help answer those questions. When you discover what you truly want in your life, following your passion and purpose will give you more joy and success than you ever imagined.
Goal Planner – Provide the space and instructions to set personal and business goals that are in harmony with life purpose. There are also instructions that step you through an action plan strategy. The planner encourages users to jot down their top weekly priorities and a weekly To-Do list to put that strategy in action. In terms of measurements, there are monthly reflection pages to capture accomplishments, lessons learned, roadblocks, as well as record actual time spent, total expenses, money save, etc. One other feature worth noting is a specially-designed positive habit creator to help you create positive habits that will support you for the rest of your life. The habit-building creator is the same process NASA used for reprogramming astronauts.
Daily positive encouragement and accountability – to create a state of joy and bliss throughout your day, sections were added to focus on how you feel. This is the uniqueness of the LOA experience. The objective here is to create this state of bliss and then allow like energy to surround you. Attract your dreams through positive feelings and thoughts. The accountability tools for doing this is the weekly To-Do Lists, the Feel-Good List, and the Gratitude List
CONS:
The Cons of this planner is basically based on user preference. Here are some of the most mentioned cons although they may be pros for others.
Undated
Not standard size of 8.5 X 11
Life planner features overload the schedule planner features
Limited space for writing in the daily time sections
Time block from 5:00am – 10:30pm block is ok for majority of people, but if you work second or third shift, this would not work for you.
Not reusable. It is advertised that you can use certain pens and then microwave the book to erase writing; however many negative reviews about this feature
To do list is weekly, not daily
Bulkier than a typical planner
Parts not selected to use can be distracting
COST:
The cost for this planner is $35. It is more expensive than a typical planner, but it is not typical either. You are actually getting a comprehensive workbook with instructions to using the law of attraction to help you to manifest your dreams.
RATING:
A major part of achieving your goals consistently is to stay focused and motivated. Well, this planner does just that. Therefore, my personal rating for this product is 4 out of 5. I have found that the best place to purchase this planner is thru Amazon. As we enter 4th quarter of this year, now is a great time to start your planning and have your planner in hand for 2018 so you can hit the ground running. To be ready, you really want to complete your goal setting process by end of this year. If you prefer, click here to start a similar effective goal setting process that is promoted on this site primarily for those who work too much.