With so many tasks to get done, how do you decide which ones to do and which ones to do first?  This is a common dilemma of a busy person and one who works long hours. If you are overwhelmed with tasks and need a method and routine to prioritize them, then read on. If you have a habit of not completing your To Do list you can benefit from these 4 easy steps to finishing every single task on your To Do list every single time. These steps are related to a proven method for identifying tasks and prioritizing them.
Setting priorities is all about ranking the right things in order of importance and urgency. Often time, a To Do list is full of tasks that shouldn't even be on there.  It doesn't matter how well you perform a task, if it isn't the right task for you to do, than you are wasting your time. Just because something needs to be done, doesn't mean you have to be the one to do it. Furthermore, spending time on the wrong tasks is frankly unprofitable.
Being effective means to complete tasks that align with goals and responsibilities. Being productive is to complete those tasks on time, with quality, and with minimal effort. Setting priorities, determining what to do and when to do it, is a skill that will help you become effective and productive. If you adopt a method for prioritizing your tasks, you will be able to rid yourself of unnecessary tasks and have time for leisure and fun things.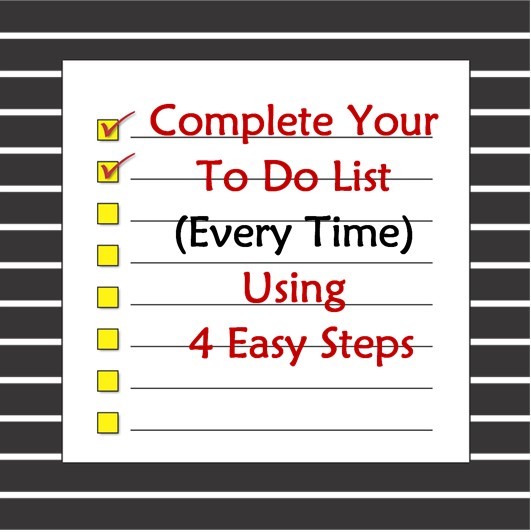 SETTING PRIORITIES
One popular method for prioritizing tasks is known as the Eisenhower matrix. Dwight Eisenhower used this method to set priorities for his schedule. As a productive president who implemented large programs such as NASA and the Internet, I think that qualifies him as an expert on setting priorities.
Step 1 – Identify the What. List all tasks on Post it Notes and answer the following questions about each tasks: What's the deadline? How important is it? Why does it need to be done? Who is really responsible for doing this task? Who else could do this task?
Step 2 – Plot the tasks. Place your task in a grid of four categories according sense of urgency (along the x axis) and importance (along the y axis). The grid looks as follows: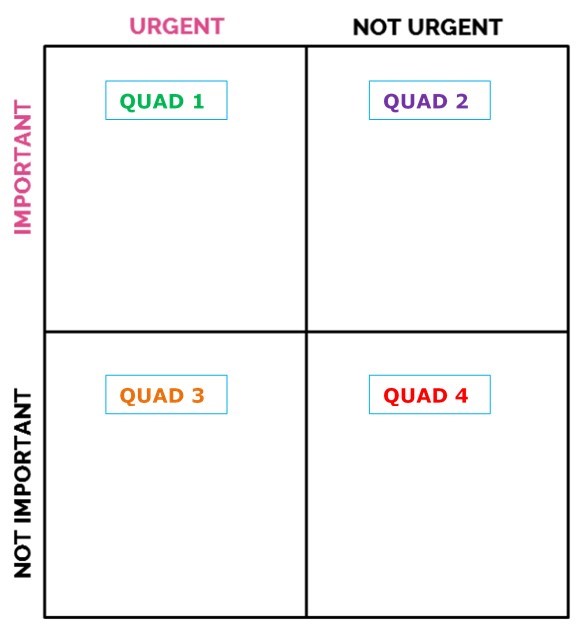 Quad 1 – important and urgent
Quad 2 – important but not urgent
Quad 3 – not important but urgent
Quad 4 – not important and not urgent
To gage importance, decide the impact to you based on values, objectives, and consequences
To gage urgency, look at how quickly it needs to be done and dependency on other things getting done
Step 3 – Action the tasks. Each quad has a designated time frame or action as described below: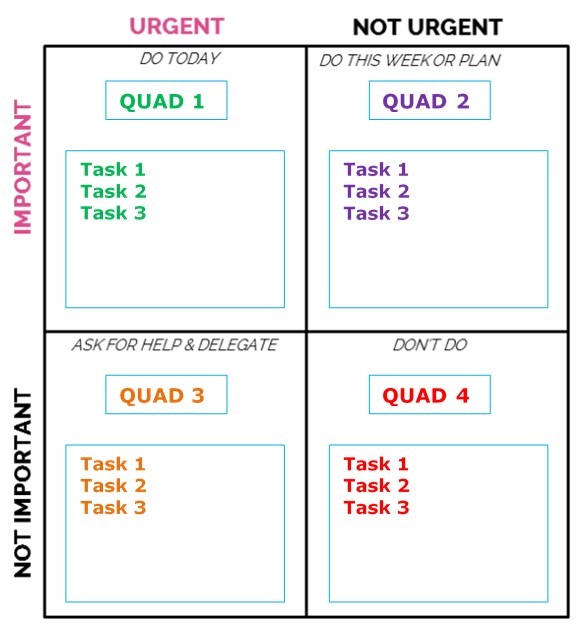 Quad 1 – urgent and important – Tackle these today (Your To Do List)
Quad 2 – important but not urgent – Tackle these this week (Your Schedule for the Week)
Quad 3 – urgent but not important – Delegate to someone else
Quad 4 – not urgent or important – Ditch these
I would suggest separating your personal tasks from your work tasks. You can do a separate grid totally or group them in sections on the same grid.
Step 4 – Schedule tasks for the week. Place the tasks classified as important on your daily & weekly schedule. Bam! You're done. Now you can focus on accomplishing things that are necessary. Anything else is secondary to these tasks and should not interfere with the ones listed. Don't try to fill up your day or week with loads of tasks because something important and urgent may pop up later in the week and you can use that time to treat yourself.
So what do you think about this method? How do you prioritize your tasks? Do you have a routine established for setting priorities?  Please share your comments and methods below. If you need additional assistance in this area, feel free to contact me at claudette@youworktoomuch.com