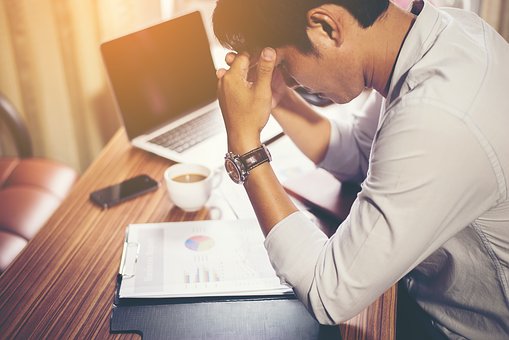 Workplace pressure has been one of the top leading sources of stress for the past few decades. Situations such as workload demands with perceived little control, coworker tension, manager favoritism, and fear of losing job have created far too much stress for American employees.
Stress is a natural response to disturbing or threatening circumstances. What is considered stressful is determined by each person, and how one handles stress is individual as well. Stressful situations invoke a fight or flight response mentally and physically; one that is highly charged and highly intense. Stress can and should be a lifesaving response; however, it can be particularly harmful if consistent and chronic.
Stress is particularly harmful on brain and nervous system. It may lead to headaches, muscle aches, and impaired concentration and memory. It can also lead to nervous habits like smoking, alcohol, nail biting, overeating, and sleep deprivation. Ultimately, it can cause serious conditions like anxiety, depression, hypertension, and heart attacks.
Many people are unaware of the degree of stress in their lives or are aware but simply ignore it. If you are aware of stress in your life, particularly habitual stress, then take action now. Stress is easier to combat/manage once you commit to self-care and life balance. The 15 stress-reduction techniques that follow are really super easy ways to reduce stress today, immediately. You don't have to wait until tomorrow or next week to start.
1. Eat stress reducing foods. Food and vitamin supplements can alter your body and mood regulating hormones and thus are very important factors to reducing stress. Any food that is related to brain health and gut health are sources of tryptophan, GABA, omega-3 fats, anthocyanins, Vitamin D, and magnesium would classify as stress reduction because they produce mood-regulating neurotransmitters such as serotonin and dopamine and control stress inducing hormones like cortisol. Some of the most common are green leafy vegetables, avocados, nuts, seeds, pistachios, turkey, wild Alaskan salmon, blueberries, dark chocolate, and probiotics.
2. Laugh. Laughter just may be the most popular stress reliever. The medicinal benefits of laughter have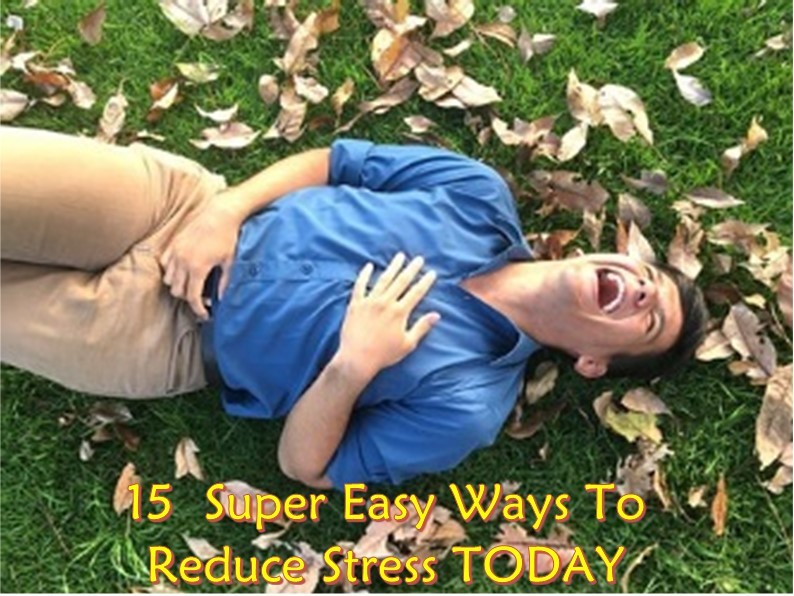 been proven biblically and scientifically.  KJV of Proverbs 17:22 reads, "a merry heart doeth good like a medicine: but a broken spirit drieth the bones."
3.  Get some sunshine. Vitamin D is an important supplement that reduces stress.
4.  Chewing gum is known for relieving stress and increasing alertness by increasing blood flow to the brain and reducing cortisol.
5.  Squeeze a stress ball or other stress relieving toys.
6.  Power nap. Getting more sleep is a great quick fix.  Short naps can increase alertness, recharge the body, and also gives you an opportunity to reset the mind.
7.  Hug your pet. For those with pets, you are already familiar that snuggling up with your pet is a calming and makes you feel good.  "Man's best friend" is also man's best stress reliever.
8.  Exercise, massage therapy, and deep breathing. These activities promote a state of calmness by increasing oxygen to your brain and producing endorphins that stimulates the nervous system.


9.  Relax your mind, body, and soul with Mediation and/or Yoga. These activities not only reduce stress by reducing brain chatter, but also improve concentration and also connection with others.
10. Deal with heavy workload. There will be times when new assignments have unreasonable deadlines and will require much more of your time. However, there are tips to keeping stress contained during those time. Have a plan to deal with those occasional times when workload spikes.
11.  Deal with procrastination. If procrastination is your Achilles heel, find techniques to beat procrastination. In addition, there are procrastination elimination apps you can use to help with this.
12.  Take time to treat yourself, some "you time." This would be quiet time or anything that bring you peace. Although doing nothing may seem out of character, try that. Taking a long, relaxing bath would suffice.
13.  Aromatherapy using essential oils in your environment reduces stress and improves mood. It is believed that aromatherapy interacts with the brain to release serotonin much like food.
14.  Gratitude Journal. Writing things down that you are appreciative of takes the focus off the negative things that cause stress. It helps to refocus your mind and transform your energy to a more positive and powerful state, which is the best state to tackle challenges. Keep in mind, stress is not about the circumstances that bring you stress, it's about your response to those circumstances that cause you stress. A state of positive energy, helps you control your response.
15. Work fewer hours. Wouldn't we all love to do this? Believe it or not, most people have the choice to work less but make excuses why they do not limit their hours. Examine your reasons and understand there are consequences to working too much.
Don't put off making these changes any longer. Your health and wellness is dependent on you doing these simple things to combat stress.
So how easy are these tips really? Why do we let stress linger in our lives? I would to know your opinion in comments below.